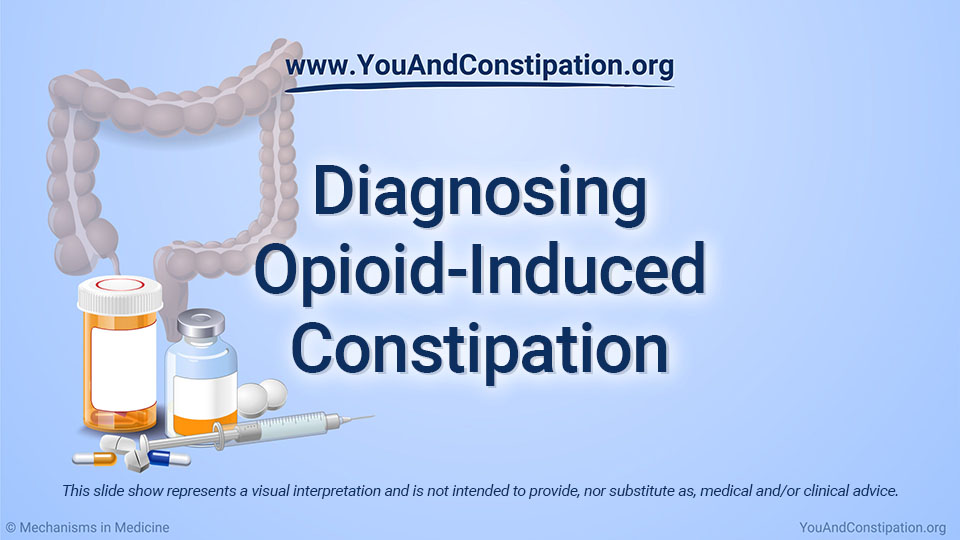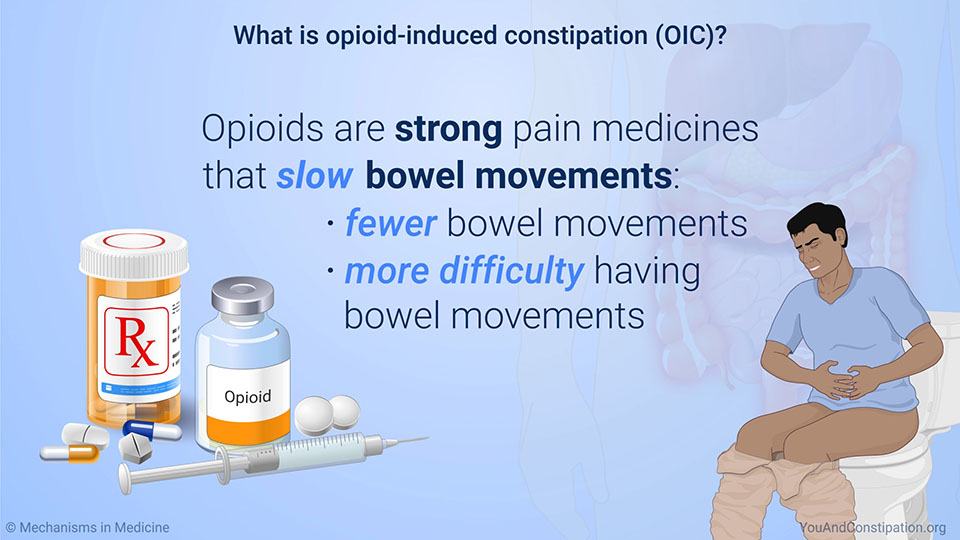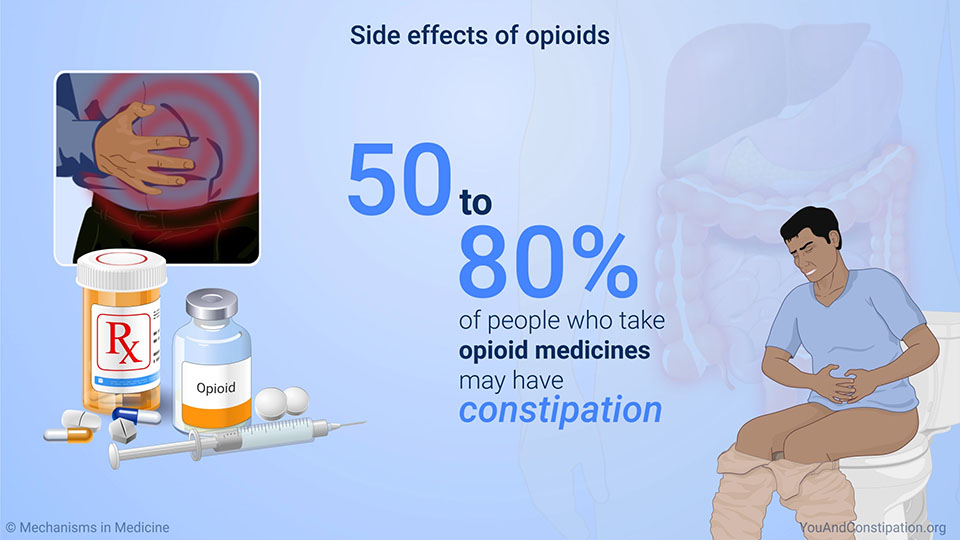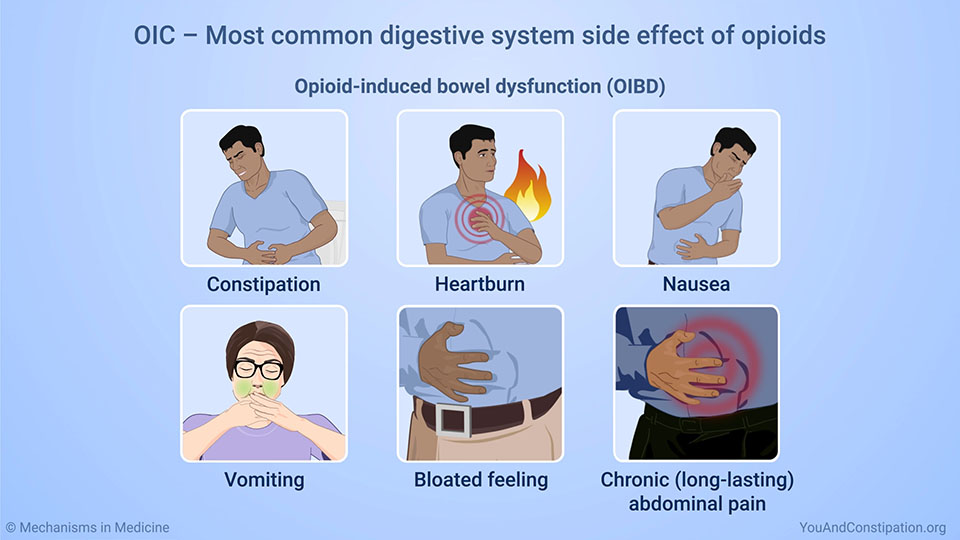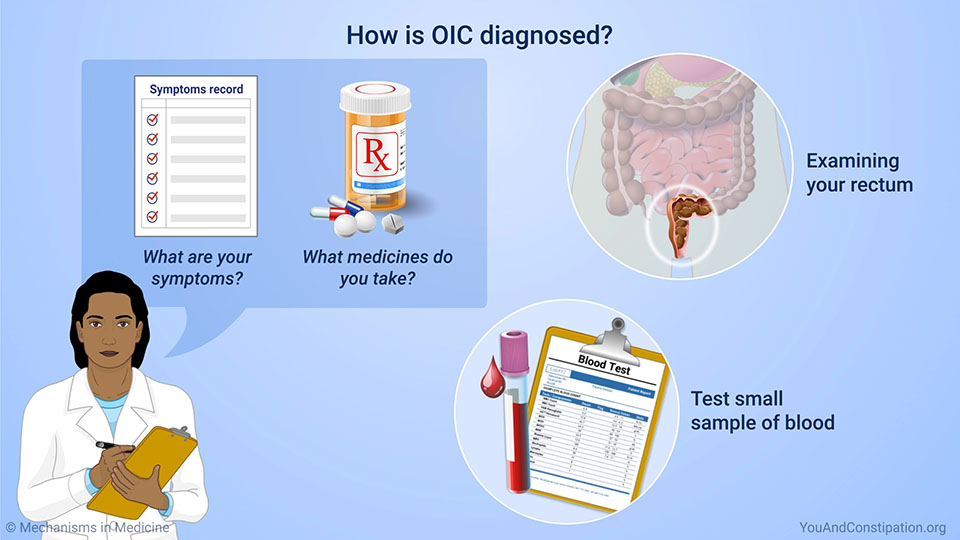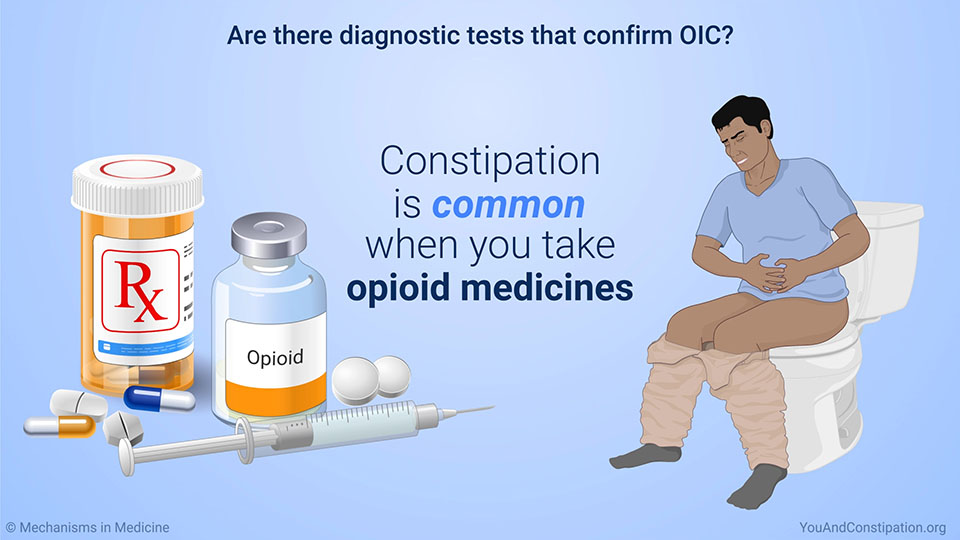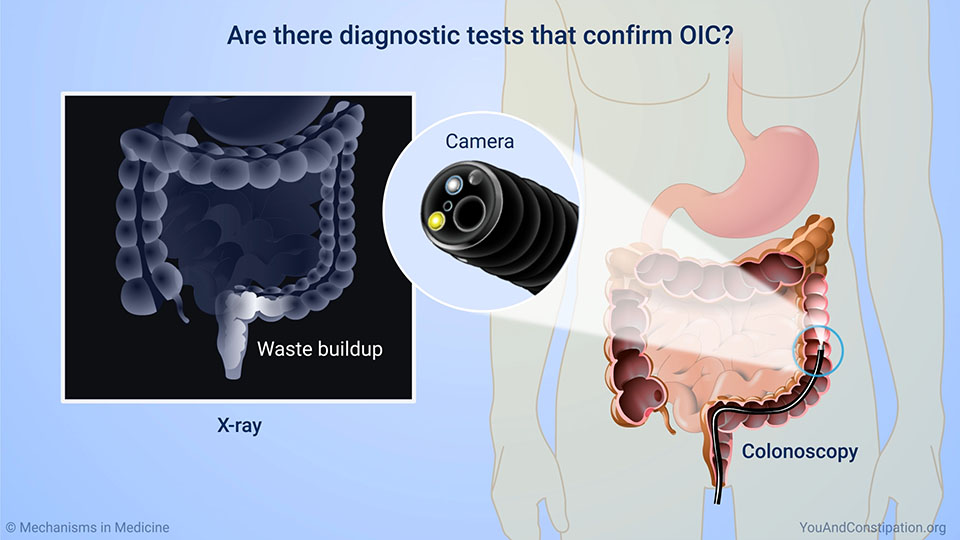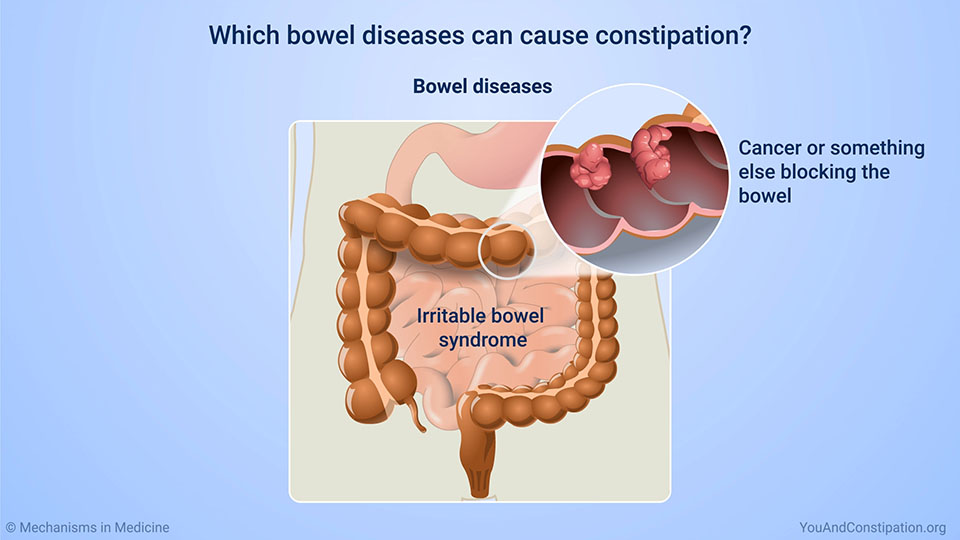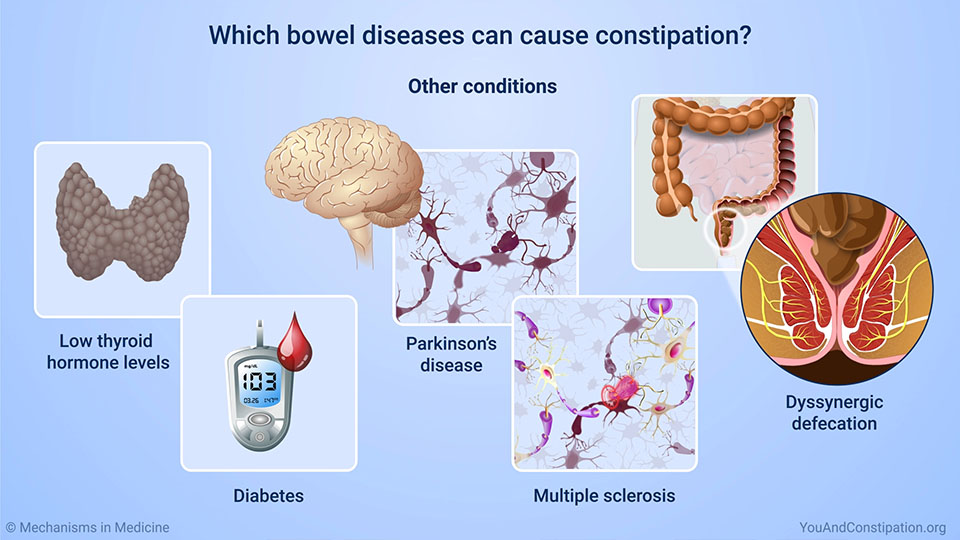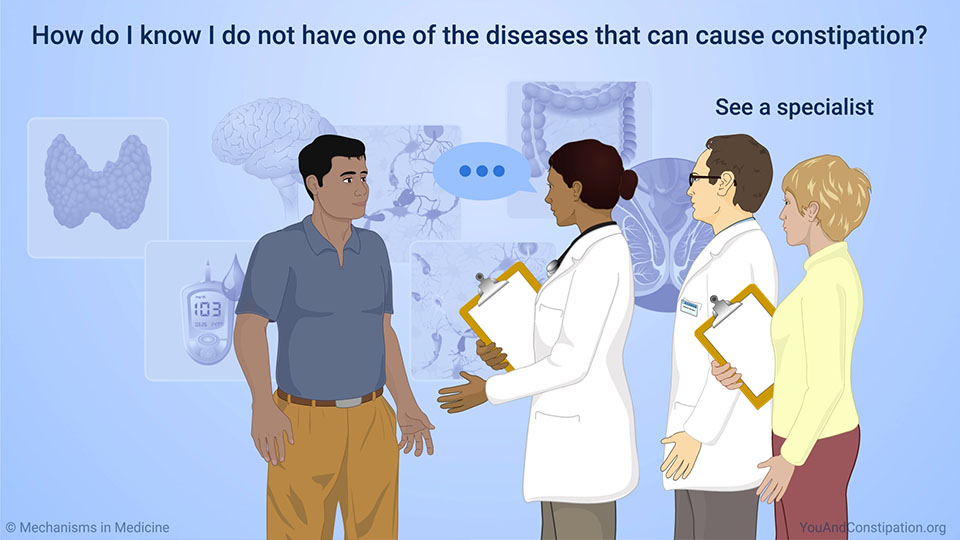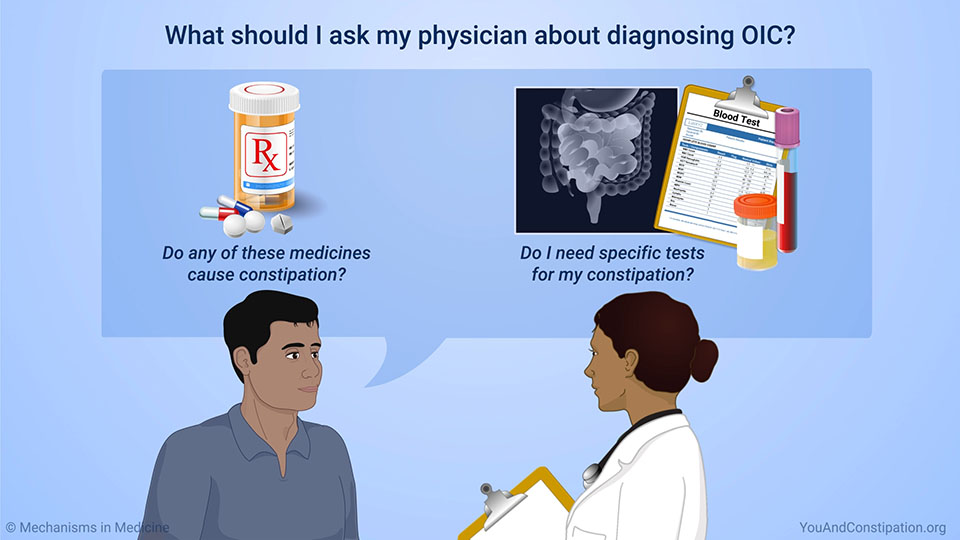 Diagnosing Opioid-Induced Constipation
*Please note: This slide show represents a visual interpretation and is not intended to provide, nor substitute as, medical and/or clinical advice.
What is opioid-induced constipation (OIC)?
Opioid-induced constipation (OIC) is a condition that affects how your digestive system works.
Opioids are strong pain medicines that slow bowel movements. This means fewer bowel movements or more difficulty having a bowel movement than normal.1,2 Hence the term "opioid-induced" constipation.
Side effects of opioids
Your physician might prescribe opioids if you have a condition that causes moderate to severe pain.
While opioids can treat pain effectively, they also cause side effects. Between 50 and 80 percent of people who take opioid medicines may have constipation.3
OIC – Most common digestive system side effect of opioids
OIC is the most common side effect that opioids have on your digestive system. However, there are others. Opioid-induced bowel dysfunction (OIBD) is the medical term for all the digestive system effects that opioids can cause. Besides constipation, OIBD can include heartburn, nausea, vomiting, a bloated feeling, as well as chronic, or long-lasting, abdominal pain.4
How is OIC diagnosed?
To diagnose OIC, your physician will ask questions about your symptoms, the medicines you take, and more. They will also examine you. This includes examining your rectum – where bowel movements are stored before leaving the body.3
You might give a small sample of blood to be tested for conditions that could cause constipation.4
Are there diagnostic tests that confirm OIC?
Specific tests are not the main way to diagnose OIC. Constipation is very common when you take opioid medicines. So, if you start taking them, start taking a different one, or increase your dose and become constipated, it is very likely opioids are the cause.
Are there diagnostic tests that confirm OIC?
You might have an X-ray to learn if waste has built up in your body, and if so, how much. If your physician is concerned you may have a digestive problem besides the constipation, you might have a colonoscopy3 – an examination of your digestive system with a thin, lighted tube.
Which bowel diseases can cause constipation?
Bowel diseases that can cause constipation include cancer or something else blocking the bowel, and irritable bowel syndrome.
Which bowel diseases can cause constipation?
Other conditions that can cause constipation include low thyroid hormone levels, diabetes, Parkinson's disease, multiple sclerosis and more.4 Or, you could have difficulty coordinating your muscles when having a bowel movement. This is called dyssynergic defecation, and it can also cause constipation.5
Your physician will check for these and other conditions if necessary.
How do I know I do not have one of the diseases that can cause constipation?
Your physician will check for other symptoms of these diseases when they examine and talk to you. They might ask you to see a specialist to learn more. If you do not have a specific disease, opioids are very likely to be the cause of your constipation.
What should I ask my physician about diagnosing OIC?
Make sure your physician knows about all the medicines you take. Ask them which ones may cause constipation, and how they would learn if a medicine was the cause. You can also ask if they are concerned about other conditions and if you need specific tests to learn why you have constipation.
Talking with your physician about your concerns is the best way to stay healthy and comfortable while getting the pain relief you need.
If I have OIC, can lifestyle changes help?
You might be able to manage your OIC with some lifestyle changes. These may include drinking more fluids, eating more foods with fiber and becoming more active. Your physician might also give you medicine to take if you become constipated.
Before you start taking opioids, ask your physician about ways to prevent constipation, or treat it if you have it.
References
About constipation. International Foundation for Gastrointestinal Disorders. Available at https://www.aboutconstipation.org/. Accessed December 2019.
Ford AC, Moayyedi P, Lacy BE, et al. American College of Gastroenterology monograph on the management of irritable bowel syndrome and chronic idiopathic constipation. Am J Gastroenterol 2014;109(S1):S2-S26.
Wald A. Etiology and evaluation of chronic constipation in adults. UpToDate. Available at https://www.uptodate.com/contents/etiology-and-evaluation-of-chronic-constipation-in-adults?search=constipation&source=search_result&selectedTitle=6~150&usage_type=default&display_rank=6#H5. Accessed December 2019.
Poulsen JL, Brock C, Olesen AE, Nilsson M, Drewes AM. Evolving paradigms in the treatment of opioid-induced bowel dysfunction. Therap Adv Gastroenterol 2015;8(6):360-372. doi:10.1177/1756283X15589526
Rao SS. Dyssynergic defecation and biofeedback therapy. Gastroenterol Clin North Am 2008;37:569-586, viii. doi:10.1016/j.gtc.2008.06.011
Slide Show - Diagnosing Opioid-Induced Constipation
This slide show describes the
symptoms
of
opioid-induced constipation
(
OIC
), and how your physician makes a
diagnosis
. Depending on the results of the medical history and physical examination, your physician may recommend additional tests such blood tests, x-ray or colonoscopy to rule out other conditions that may be causing constipation.
Click here to take our SURVEY
Your feedback is important to us! We will use your feedback to develop future areas of content about constipation which will help other patients, caregivers and families.
Please rate this content: